We use the finest quality BASF paints – The 90-Line Waterborne Basecoats by Glasurit
Available In Every Color
90-Line Waterborne Basecoat is the most advanced coating available in today's market.  It's this superior technology that has convinced seventy percent of worldwide OEM car manufacturers to use waterborne basecoat finishes – which means that it's also your best choice when you have your car repaired.
We have close associations with many car manufacturers around the world, which gives us the ability to keep up with the latest color stylings.  Glasurit has an extensive database that contains color information from around the globe, with several decades of formulations that can be used by collision shops to ensure a perfect color match and a high quality and durable repair.
Galsuirt 90-Line is an award winning technology that has provided the highest quality repairs since it was launched in 1992.
Especially Green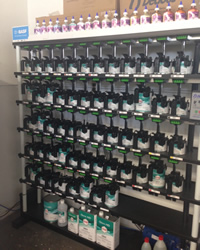 90-Line will provide you with the highest quality repair available, but by choosing Glasurit 90-Line you are also choosing to help keep the environment clean.
"Green" products such as 90-Line Waterborne Basecoats emit far fewer VOCs (Volatile Organic Compounds) than their solventborne counterparts.  In fact, 90-Line meets the most stringent VOC regulations in the world, and lower VOC emissions will help to greatly improve air quality.
A Little History
In 1888, the enterprising Max Winkelmann founded a lacquers and paints company in Hamburg, Germany.  By 1898 he was selling a number of different paints and he realized it would be smart to market all his different products under one name.  The name he chose was "Glasurit", which reflected the enamel-like glaze and hardness of his paint finishes.
That tradition of quality and technology continues today with Glasurit 90-Line Waterborne Basecoat, undoubtedly the best waterborne basecoat system on the market today.  The fact that it is used in the production of ultra-luxury cars, such as the Maybach and Rolls Royce, is a testament to the quality of this system and the confidence that these manufacturers have in Glasurit paint.
The Smart Choice
Glasurit brand has long been considered a worldwide standard for excellence – it continues to deliver the productivity and quality demanded by leading collision repair centers and their customers.
90-Line is the best refinish choice available, and we back that up with BASF's VisionPLUS Lifetime Warranty Program, which will guarantee that your repair will always look as good as new.  If you want your car to be repaired using the best technology, and one that helps keep our environment clean, then be sure to ask your collision repair center for Glasurit 90-Line Waterborne Basecoat.